What's on Campus
Libraries
Kyoto University Library
Kyoto University, Faculty of Engineering Libraries / Graduate School of Engineering Libraries
Department of Global Engineering Library
Location: 2nd floor, Faculty of Engineering Building No. 3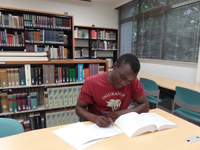 Opening Hours: 9:00 - 17:00 on weekdays
This particular library has 6 LL booths open for students for language practice or DVD viewing, etc.
There are plenty of English books for specialized area in civil engineering as well as guidebooks for your exploration in Japan and study guide regarding the Japanese language, etc.
Student Lounge "KI-ZU-NA"
At "KI-ZU-NA", international and Japanese students, university staff, professors, researchers etc., can get together to join or organize cross-cultural activities. "KI-ZU-NA" has a salon where students can chat and relax. There is also a reading room (lending library), which provides books for Japanese language learning, books in English and so on. The reading room is equippied with two computers for internet access.
Also, "KI-ZU-NA" promotes cultural exchange through monthly events in which students can participate.
Cafeteria
Kyoto University has four cafeterias in Yoshida Campus, and one of those cafeterias is called "Cafeteria Renais". They provide regular meals in variety of cuisines such as Japanese, Chines and Western as well as halal meals for Islamic students with an official certificate to provide halal food. English translation of each dish is available along with the picture and pictogram for the ingredients for those who have food restrictions and allergies. Manager and staff are very enthusiastic to improve the food service so that students can fully enjoy their meals in a cozy atmosphere.

University Health Service
Kyoto University Health Service
Kyoto University Hospital