Zhuoran from China -April 2015 admission
After getting over another stressful final week and multifarious moving procedures, finally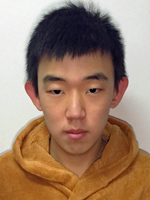 there awaits a two-month holiday, also a pretty good time to recollect details in the past two semesters.
 Kyoto city has beautiful sceneries as a quiet countryside, yet it still retains many functions that can only met in modern cities, probably because of its restriction of heavy industries. Another consequence is that the weather is always so delightful, you can always see clear sky, bright sunshine and white clouds as well as feel the gentle breeze. It's pleasant riding around but sometimes slopes kill half the joy. There are many temples and shrines – I prefer the expression "you can always find another one between any two of them" – each with a different style and view. Along with cherry blossom and red leaves, it attracts thousands of tourists every year.
 Compared with China, I think life in Kyoto is free and friendly. Japanese are so polite – sometimes they would apologize even if you offended them carelessly. Everyone on the street seems energetic and optimistic, they always wear tidy suits, and no matter walking or chatting they crush me with the impression of trying to enjoy life here. Facilities are old but well maintained, so you can hardly see them age. Years of maintaining brings perfect combination of people and common facilities, and that makes life easier and more enjoyable.
 It should be one of the best memories receiving a higher education in Kyoto. The International Course Program, aka ICP, is a little bit different from normal courses. Class is taught in English, that's international standard. Also there are less students in our class, making it easier for student to receive one-to-one private guide from professors. Schedules are carefully designed and cover a very broad range – as a future civil engineer, we will learn basic math, classical physics and computer technics as well as other professional courses. One "side effect" is such that many courses are difficult, not mention they are taught in English. Some courses are hard to pass, and that requires hard work. But that is what top universities like, isn't it? I can tell I really learned something that would be useful in the future.
 The teachers are all professionals. Some of them are extremely conscientious, they not only teach us the class but also tiny but important skills such as how to make presentation and how to write emails to professors. Textbooks are mainly American ones, start from simple and familiar concepts and then goes deeper and deeper, with many examples and exercises.
 Classmates are very smart and always willing to help. We organized study groups to review and do pre-study. On holidays or someone's birthday, we send small presents and hand-made cards. Japanese are sometime conservative, but there are always guys from aboard that get us to parties and have fun. That is an advantage of a small class but containing students from differ cultures.
 We follow strict but simple schedule. School begins on 4/1 and 10/1 every year and lasts precisely 4 months. During every semester except weekends there are many small holidays. They are fixed days but always come as a surprise for students so that they got another day to rest. Every school day follows the same time table, neither starts too early nor too late.
 The campus is not very big but is very beautiful. Trees and plants and bicycles everywhere, all buildings have a special style. Cafeterias are very convenient, menus are all specially designed with details such as calorie level, and they change it every a few weeks. The library is unimaginable powerful. With our university ID we can access to nearly every book and paper and check them anytime, anywhere. We also have this entertainment room with newest high-end media equipments and tons of CDs and DVDs.