Students' Voice
RYOKO ARAKI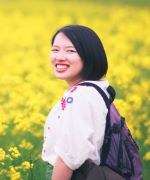 I have graduated from ICP in March 2019. Looking back, I believe that myfour years in undergraduate were trulymeaningful because of the best Professors, supportive faculty staffs,and wonderful classmates.
In basic classes, we learnt how to work as a team by doing group presentation about infrastructures over the world. In advanced classes, professors explained us not only the operations but also the stories behind mathematical equations so that we can understand the topic deeply. After class, we enjoyed going dinner together talking about various things in English; daily problems, cultural differences, social issues, etc.
We also had opportunities to get in touch with recruiters and engineers from Japanese innovative construction companies, such as internships, visits to their research facilities, and meetings with those companies etc.
In the final of the program, each of us had own research topic and wrote a full thesis which could be submitted to international conference or journal. Thanks to my bachelor thesis, now I am preparing to proceed to the Master course in the United States with scholarship.
Each of these experiences are actually hard to be found in other programs except ICP. Pave your roads from Japan towards all over the world!
DAIKI YAMASHITA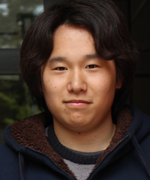 The reason why I chose this course or ICP is that it seemed very difficult and challenging to study and learn in English also exciting to study with students from different countries. In fact, there is a great difference between Japanese students and international students, they are much more active and they have no hesitation to ask professors and give their opinions. That is encouraging for Japanese students to be more active.
I believe you shouldn't be satisfied with just entering this university. You should make efforts to attain higher level of accomplishment. I remember a professor saying in the first guidance of engineering faculty "You will be tired of studying at this particular time". The only way to survive this course or this university without being fed up with studying is to find new things which may be difficult at the first sight and challenge it.  Difficulty is the best nutrient to make us smart and grow up. Never be afraid of challenging because you can do it.
ZHAO Shiyuan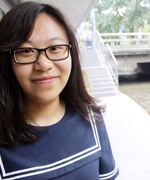 My name is ZHAO Shiyuan from China. This is my senior year in Kyoto University's International Course Program, and the program brought me great opportunities to learn about civil engineering with a global perspective during these three years. We learn knowledge from standards of one country to another as well as comparisons between them by professors and special lecturers. Besides, all students have an opportunity to participate in international internships aiming at gaining a better view of foreign companies' technological and operational circumstance.
In addition to academic studies, it is extremely fascinating to have conversations with my classmates and faculty members and to learn from them. As for me, I learned to show appreciation and give compliments to others for their achievement and good deed directly, which is rare in Asian culture. ICP indeed provides me both sufficient knowledge and fruitful experiences in order to build my sense of value. And it is definitely an indispensible chance for all of us.
TAKATO KOSAKA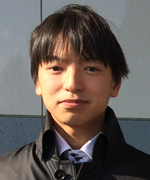 The International Course is where you can learn civil engineering issues in the world and Japan. You can compare Japan with other countries and clarify both characteristics. International students and professors share the case in their home countries. For example, I was impressed by knowing that the population in German is evenly distributed to every region. And at the same time, though I had already known about its high population in Tokyo area, I was surprised to know that Japanese population is "extraordinarily" concentrated in Tokyo area. I participated in the international internship as part of this course. It was also a good opportunity for me to know the characteristics of overseas site and those of Japan. The attitude was different in developing countries when it's towards safety and environmental issues. They did not care about it that much. Through these experiences, I could see  Japan from outside also Japanese value in the world. Now I am applying for a government official. I would like to make Japan safe and resilient, especially for disasters. I believe what I learned in this course helps me to solve the challenges of civil works in Japan, and also in the world.
YUSUKE HAMADA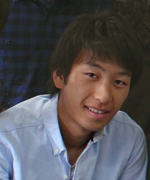 In the International Course, all classes are provided in English. The Liberal Arts program includes Japanese History and Japanese Culture, and studying such subjects in English with students from foreign countries helps me understand the culture of my country from a different point of view. When we researched the systems of the exams for university admission by comparing Japan with my classmates' native countries (Egypt and Kenya) in a small group, I found big differences among those countries and I was struck by the variety of the systems in different countries. Students in this course have various nationalities and faculty members are also from different countries. Through discussion with them, my curiosity in learning is widened not only to engineering but to the humanities and social science.
The number of students in International Course is smaller than that of Japanese course, and the relation between students and faculty members is close. Teachers pay attention to each student, and spend time explaining in detail to reply to our questions.
Everyday classes and experiences in the International Course are priceless to me.
AULIA FEBIANDA ANWAR TINUMBANG
I think it was a good decision to continue my study in the International course of Global Engineering. The entire teacher and the staff always help the student to enjoy study. I learn new culture and get friends from many countries. When I have graduated later, I plan to continue my study in Master Degree and maybe until Doctor Degree.
MICHAEL MBITHI
My name is Michael Mbithi from Kenya, currently a student at Kyoto University, taking the International Course Program of Global Engineering. The reason why I made a choice to study in this great university is because it's among the top universities, not only in Japan, but worldwide, in science, technology, as well as other fields. The International Course is a well coordinated and educative program, having skillful and encouraging teachers, who enable us to study in English. Living in Japan is a good experience in terms of cultural exchange, being able to learn a foreign language, and also making new friends. My future plans are to successfully graduate from this course and proceed to masters as well as doctorate levels. Later on, maybe I will be able to work here in Japan or elsewhere.
Moemi Yamamoto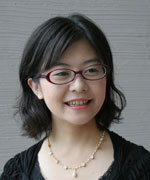 When I was a high school student, I was interested in civil engineering and I was hoping to do research regarding infrastructure. While I was searching for global engineering in which you can learn civil engineering, I came to know this international course. At first, I did not think that I could enter this course, because my English ability was not so good. After I passed the examination of global engineering, however, I decided to take the placement exam of this course, because I was willing to challenge something. Actually as I had expected, our classes are small-sized, high level and our teachers are very enthusiastic. We are making the most of this international program taking such courses even from the first year. Owing to this course, my prospect widened and now I can imagine myself working not only in Japan, but also abroad in the future.
Wang Ziran
I am very glad I chose to come here to be a member of this program and this university. Here, I get to enjoy the top educational resources with top students in the world. At the same time, I have the opportunity to study, live, communicate and have fun with students from many countries in the world. It's really amazing to be able to be together with students from different background, experience the cultural differences and broaden my horizon. Furthermore, all my abilities have been well trained in this extremely plural environment, which will surely become a precious wealth when entering the society in the future.
Kim Daeyoon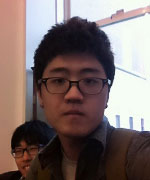 My name is Daeyoon Kim from Korea, a G30 student of global engineering at Kyoto University. The reason why I came to Japan is really simple. It's because Kyoto University is one of the top universities in the whole world. Specifically, Japan undergoes natural disasters frequently like earthquake, tsunami, typhoon, flood. This situation makes Japan to be stronger in the relevant scientific and engineering fields. Japanese Civil Engineering has been developed very fast, and Japan has special skills for constructing infrastructures.
I am sure the international course program is a well-made program. Our class comprises of just 14 students. I can concentrate on my study without any stress. Additionally, all the faculty members have passion and attention to us, and all the classmates are really kind. Finally, I want to mention about our tutoring system. Each student has one professor and one Senior student as tutors. They help me to live comfortably, so there is no trouble to stay here.
My future plan is to continue study until master's or doctor's degree. Later, I hope to be a professor in Korea, Japan or elsewhere.