Isabella from Philippines -April 2016 admission
It has just been about three weeks since we all first met and started attending the classes but it feels like it's been months already. I am saying this because I have learned a lot in these three weeks. Perhaps, of most significance of these learnings in three weeks are three things.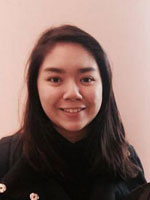 First, for me, life here has been an exciting adventure -- from walking or biking around the campus to searching for tasty treats and activities to try with my friends. Before coming here to Japan, I was worried about how challenging my university life would be as I expected to attend difficult classes and to be surrounded by a different language and culture. But not even a month has passed, my worries eased because people I have met are so friendly, understanding, and have really all been so helpful. Furthermore, Kyoto is very beautiful with the vibrant colors of nature and its rich culture, making it all the more a very pleasant place to study in and explore. Since my arrival, my friends and I have been attending Hanami parties and picnics along the Kamo River, going around the city for ramen, gyuudon and other Japanese foods, visiting landmarks like the city zoo, and even travelling all the way to Himeji Castle in Hyogo Prefecture along with fellow international students. Indeed it has only been a short time but we have already explored so much. It goes without saying that I really look forward to even more adventures in the next four years.
Secondly, the professors and students of the International Course Program (ICP) make up one supportive extended family. Members of this big family help each other understand different concepts, making learning an enjoyable experience. All of the classes are interesting and I am sure everything that we learn will be of use in the future. Some topics can be tricky at first, but our considerate professors explain patiently well. Aside from this, international students also get various opportunities to interact with Japanese students. Thus, we get to learn various cultures and useful expressions not only Japanese but also numerous languages. I feel happy and blessed to be a part of the ICP family.
Lastly, I have been learning to live independently. Being away from my family is not easy because I have to make decisions and do things on my own. But this is a good chance for me to enhance myself. I sincerely thank ICP for this opportunity to begin a new life adventure with my new extended family as I hope to grow and realize my dreams.