Meng-Heng from Taiwan -April 2015 admission
Kyoto is a city overflowing with rich culture and history; a university­ is a place enchanted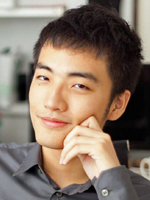 with great knowledge and freedom. The two makes one of the best places to pursue knowledge and enrich life experiences. It has been a little over seven months since I began my studies here in Kyoto University, and each day went by fast.
For the past seven months, I have juggled between studying, playing, and living out life.  The workload at Kyoto University is not light, but you can always find time to have fun and enjoy life. Perhaps this is the university's way of upholding its philosophy for students to have freedom.
Beyond studying, I also have been spending time with the Kyoto Symphony Orchestra. It is an outstanding orchestra that strives to make each piece perfect. As an intermediate musician, I still have a long way to go before I can catch up with their performance. Being a first-year in the orchestra, I could only take part in small recitals and help out the stage management in concerts. I look forward to tone my music skills and become a performing member of the orchestra.
As the first semester ended and summer vacation began, life finally slowed down. I was able to take it easy for the two months. For the first few weeks, I went sightseeing in Kyoto, witnessing the rich culture of the city with my own eyes. From the ancient temples to the scenic landscapes, Kyoto is truly a beautiful city. And as the summer holiday came to an end, I lightheartedly welcomed the new semester and thought to myself, "It is wonderful to be here."