Omar from Egypt -August 2015 admission
It's been almost four months and half, four months and half of discovering, learning, and knowing how I was very lucky to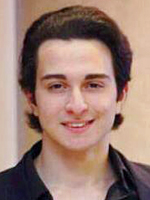 come to study here. The day here is not just a day, it is an experience, or a story. In Japan you will know exactly the meaning of "studying and enjoying at the same time". Japan, this magic pearl of Asia, which always inspires the world with its technology and solving problems with a very smart way.
 Studying civil engineering was the biggest dream for me. I believe that Japan is the best place for this major. As you know, Japan is located a critical place, even though it stills the safest place on the planet because, in Japan, every problem has always a solution. Here you will learn how the people can face the problem and you will learn how to find a solution.
 Studying in the International Course, is really a very good opportunity for anyone. The course is really benefit and effective. The university here always tries hard to improve our skills and prepares us to be the best civil engineers in the world. In this university you will know how studying is really interesting. The professors here are amazing. Every professor tries hard to give his experience to you. For me, I feel like it is a relation between a father and his son not a teacher and his student. They really care about us. University life here is amazing and you will discover your talent here. There is always a place for you in a club or a circle. Also, Kyoto University is one of the most prestigious universities in the world. This university tries to make a perfect generation for building and improving this planet. Studying at an international university always offers you to learn more about other countries and other cultures.
 Anyway, it is not the end of my dream to study civil engineering. However, I have to study, because it is just the beginning of a new dream to graduate and share my knowledge with the world.