Sakr From Egypt -April 2016 admission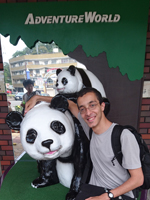 It's been over nine months since I came to Japan, and I've already made lots of great memories. One of my best memories over the past year is going to Shirahama last summer. Located in the southern coast of Wakayama prefecture, Shirahama is famous for the white sand of its beach, and for Adventure world; a theme park and zoo which has pandas! We went there by train, and the journey took over four hours. I especially enjoyed watching the Japanese countryside during the train trip.
After we arrive at Shirahama, we bought lunch boxes, and headed to our lodging, "Kyoto Daigaku Shirahama Umi no Ie", or Kyoto University Shirahama Sea house. After settling in our rooms, we had lunch, and went to the beach. Later that night, we lit fireworks, and made Pasta for dinner. Cooking enough food for 13 people was no easy feat! After dinner, we watched a horror movie, which was more funny than scary in my opinion. After the movie, we turned in for the night.
Next morning, we packed our bags, had breakfast, and left the lodging. On our way back to Kyoto, we stopped by Shirahama aquarium, which was free for Kyoto University students. We saw all sorts of strange fish and aquamarine lives, which was really interesting. Afterwards, we hanged around the beach for a while before leaving to catch our train back to Kyoto. I've really enjoyed my (short) stay in Shirahama, and I'm definitely going to visit it again in the future.