Samuel from Kenya -April 2013 admission
 For two weeks in August during my summer holidays, I had my internship at Wakaya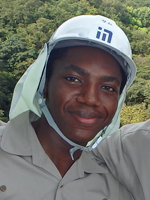 ma Prefecture under Kajima Corporation. Kajima is one of the biggest construction companies in Japan and having been accepted on their site was an honor for me. The site was for a bridge construction as part of the Highway from Kyoto to Wakayama through Nara. I wish to major in bridge design and construction during my master's course so for me this was the perfect internship.
While at my internship, I met some of the kindest and understanding people from the company. Both the engineers and the workers at the field tried their best to communicate with me despite the language barrier when it came to technical terms.
I had the pleasure of seeing what goes on inside a Japanese construction company both inside and outside the office. The Director of the site, Mr. Tanaka was very generous who went out of his way to make me feel comfortable and welcomed during the period of the internship. I not only got to learn about bridge construction but was also got a rough introduction to tunnel construction from a nearby site. By the end of the internship, I felt like I was already a member of the company.
Overall, it was much better than I expected and if it motivated me to do my best in my studies so as to join Japanese Company in the future.  I hope to visit my internship site once it is completed and see what amazing progress has been made.