Wei from China -April 2015 admission
The two-day field trip ended in last week is really exciting and fruitful. It may sound little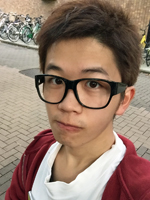 exaggerated, but the trip turned out to be an eye-opener for me.
On the first day, we went to the construction site of Shin-Meishin Expressway (New Nagoya-Kobe Expressway) which is planed to solve the problem of traffic jam around the areas and to function as an alternative choice when the natural disasters occurs making the original one unable to use. The protection of historic remains around construction sites is very thorough and the constructing technique is very interesting, e.g. transfer timbering. After this, we went to E-Defense, a three-dimensional full-scale earthquake testing facility which is contributing to the data-collection and simulation for earthquake. On the second day, the tour to AkashiKaikyoBridge, the bridge possesses the longest central span, again, astonished me. Especially the fact that because the towers have been moved due to the Great Hanshin Earthquake, the engineers still managed to build the bridge by adjusting the location of towers and increasing the span of the bridge by 3.3 ft. At the end, we visited the construction site of tunnel in Tokiwa, Osaka prefecture, which is my favorite part of the trip, since I am kind of acrophobia, no place else can make me feel better other than the underground, XD.
Besides the filed trip, in spring vacation, I also joined a special seminar for 'Introduction to Education' in Shirahama with the professor from the Department of Education and other friends from various major. We discussed about some topics such like 'Global Communication', 'Deep Learning' and 'English Skills', which can also be a great help for my study life in Kyoto University hereafter.
 (P.S. The sea-food rice sold by the restaurant near the Akashi Kaikyo Bridge is really delicious and cheap!!!)

See related photographs at Photo Gallery page.