Xiang from China -April 2015 admission
It has been more than one year since I came to Kyoto. During this period of time, I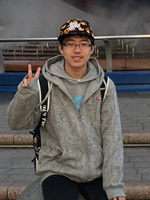 started to feel the peace of Kyoto, experience the culture of Kyoto and gain knowledge in Kyoto University. Being a member of Kyoto University has been my short-term dream since I was in high school and I have achieved now. And I will continue to realize more dreams here.
 Lectures, which are provided in English, friends from all over the world and professors, top researchers in each field, enable us to have an amazing learning environment. In addition, our course offers more chance to communicate with Japan companies so that I got what I should do for my future life. Beyond studying, what impressed me most is its splendid campus life.
 I attended a family program which was organized by KOKOKA (Kyoto City International Foundation). Those KOKOKA families (local Japanese families registered for the family program as volunteers) play a role as advisers for me, foreign student, and let me deepen our mutual understanding by spending time together. By this activity, I can ask everything that I am worried or want to know about. Moreover, I also enjoyed Japan traditional festivals together. They introduced the past history of those festivals and invited me visit many temples such as TOUJI and NIJO Castle to teach me the history of Japan. What's more, I also had chance to taste many different countries' dishes including those Japan traditional food which were recommended by my family. During this period of time, I furthered my understanding Japanese life and history.
 In all, study in Kyoto University can not only provide us a study full of  challenges, but also provide an interesting campus life. My goal is to pursue knowledge in the region of civil engineering and enrich my life experience. Even though I am the fresh this year, I have already been ready for the coming challenge and looking forward to it.