Yan from China - 2017 Admission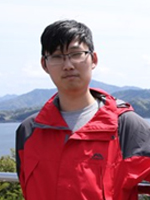 Hello everyone! My name is Yan An, the first-year student from China. I was honored to be invited to the welcome party held by the principle on June 23. I would like to share my experience to you.
This party has been held from 1961. It has really old history. On that day, we had hundreds of international students from different countries assembled, some professors and also leader group of the university. I can see that the university attaches great importance to the party.
At the beginning, we had the greeting from the PresidentYamagiwa. He encouraged us to broaden our view by communicating with the people coming from different country and meanwhile not forget to learn Japanese culture. Then we had the representative of international student to deliver a speech. With the Kanpai word from the Vice-president, the party started.
At the party, we had chance to enjoy some Japanese traditional food such as sushi and sashimi. Also, food from different countries. I even saw some dishes of Chinese food and it was really delicious. After the meal, we watched a dance from "Saikyo Zensen" which is a dance club of Kyoto University. I did not know what kind of dance it was but it was full of artistic appeal. Next, we listened the traditional Japanese music played by a band. It was the first time that I heard this music and I also learned some knowledge about the traditional Japanese instruments like "koto" and "syakuhachi".
In this party, I had chance to chat with different people. There are really so many international students at Kyoto University. Instructions written in English are everywhere and you will not feel inconvenience using English in Kyoto University. Beside this party, I also joined the trip arranged by the faculty of engineering for international student. I have made a lots of good memories as an international student in Kyoto University and I am looking forward that you could join us and have a colorful life in Japan.