STUDENT BLOG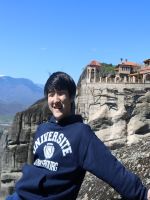 I had been studying at the University of Texas at Austin for 10 months, and it was one of the best experiences in my life!
I appreciate all my friends and ICP members for this wonderful opportunity. I liked the international environment of ICP; my daily interactions with my international friends and professors helped me develop my English skill and piqued my interest in international cultures. But as a Japanese myself, I wanted to fully immerse myself in a different culture to get the full international experience, just like my international ICP friends did when they came to Japan. That's why I decided to study in the US.
>> Read more
News & Events
Aug 28, 2019
2019 Second Semester Guidance
Aug 28, 2019
Application Period
May 17, 2019
New Guidelines
Jan 07, 2019
The Guidelines for 2020 are available now!
Dec 25, 2018
New Year Holidays in the academic year 2018
Aug 20, 2018
Application Period Started!
Aug 09, 2018
Application Period Will Start from August 20
Jan 04, 2018
The Guidelines for 2019 are available now!