Educational Goals and Scientific Philosophy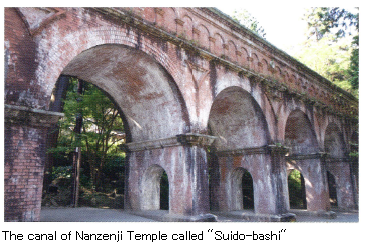 "Lake Biwa Canal" is a treasure that has been left for the modernization of Kyoto about 100 years ago by Sakuro Tanabe, who taught Civil Engineering, Global Engineering's predecessor. The basic social structures which support a comfortable and safe cultural environment as well as a wealthy natural environment will be passed down for generations.
Global Engineering advocates the maintainable progress of humanity by utilizing new knowledge. This new knowledge should consider the rational development and preservation of the earth's atmosphere from tens of kilometers under the earth's crust to tens of thousands of kilometers across the earth's surface.
The domains of scientific technology that Global Engineering should contribute to are extremely many. However, it is impossible to lose the comprehensive understanding of these large domains and consider the sustainable progress of people and the total preservation and development of the planet as a whole. Consequently, Global Engineering supports the opinions that synthetically undertake the scientific technology that extends over various fields. Also, in holds the training of skills needed to accomplish the business or sophisticated research of society.
The School of Global Engineering aims to educate young people who have, above all, visions of new civilization and power of imagination and take active parts internationally. Our students are expected to be engineers, researchers and administrative officers who think from a global perspective and actively contribute to the society, as our motto 'Think Globally, Act Locally' connotes.